Caribbean Lamb Potjie.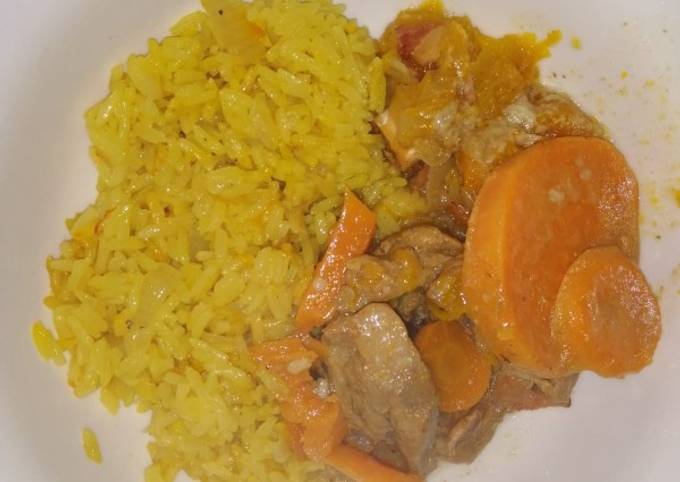 You can cook Caribbean Lamb Potjie using 20 ingredients and 7 steps. Here is how you achieve it.
Ingredients of Caribbean Lamb Potjie
You need of Coconut Oil.
It's of Onions, sliced.
It's of Bacon, diced.
It's of Garam Masala.
It's of Salt.
It's of ground black Pepper.
It's of Lamb.
Prepare of white Rum.
Prepare of dark Rum.
You need of Stroh Rum.
Prepare of vegetable Stock.
You need of Worcestershire Sauce.
You need of light Syrup, from Pineapple in light Syrup.
Prepare of Pineapple, chopped.
Prepare of Carrots, peeled and sliced.
Prepare of Sweet Potato, peeled and sliced.
You need of Pumpkin, peeled and diced.
Prepare of Coconut Milk.
Prepare of Honey.
Prepare of Cornflour.
Caribbean Lamb Potjie instructions
Heat potjie, add Oil, fry Onions till soft, take Onions out with slotted spoon and set aside..
Fry Bacon till crispy, take Bacon out with slotted spoon and set aside..
Season meat with Masala, Salt and Pepper. Brown meat in potjie, ensuring both sides are cooked..
Add Rum, Stock, Syrup and Worcestershire Sauce to cover meat and bring to boil. Set aside any left over liquid. Reduce heat and cook slowly for least 1 and half hours..
Add Pineapple, Carrots, crispy Bacon and fried Onions, replace lid and simmer for 30 minutes.
Add Pumpkin and Sweet Potato, cover and simmer for 30 minutes then add leftover liquid and simmer for another 45 minutes..
Mix coconut Milk, Honey and Cornflour, pour over top, replace lid and simmer for 20 minutes. Serve with yellow rice or other Caribbean Island favourite..